COVID-19(Coronavirus) Update
Switch to the Corpus Christi Electric Company that Has 4-Star Pricing*
Learn about our fixed rates today.
Amigo Energy Plans Available in Corpus Christi, Texas
‡Terms and conditions apply.
Compare Your Electric Rate to the Corpus Christi Average
Remarkably, the average electric rate in Corpus Christi of 10.98 cents per kWh matches the statewide Texas average.3 That would seem to be a good indication for residents of the Sparkling City by the Sea. The only problem is that the median household income in Corpus Christi is $19,341—67 percent less than the national average.4 Which, if you're anything like most Corpus Christians, makes getting a competitive, fixed rate all the more important.
If you're curious about how your current electric rate stacks up, ask yourself a few questions:
Do I have a fixed or variable rate?
Does my rate include fees?
Depending on your answers to these questions, you may want to consider switching electric companies. Here at Amigo Energy, we feature competitive fixed rates with flexible contract lengths. Even if you're looking for an electric company in Skidmore, Mont Belvieu, or another town near Corpus Christi, we can get your power turned on today.1
Turn on Better Electric Service
Competitive, fixed rates
Flexible contract lengths
Going Green Is Easier than Ever in Corpus Christi
The City of Corpus Christi is a great place to go green in Texas. First off, you'll want to tap into energy efficiency initiatives like lighting and water heater upgrades that the city offers periodically. Also, citywide recycling programs are widely accessible and easy to use. Finally, take going green to the next level by adding renewable-energy credits to your plan for just $9.99 a month.
Learn more
This Ain't Our First Rodeo—Let Us Help You
Moving to Corpus Christi
Switching Electric Companies
Amigo Energy FAQ
Set Up Your New Corpus Christi Home with Amigo Energy
Moving to Corpus Christi? This Sparkling City by the Sea is home to a vibrant arts community, great beaches like JP Luby Surf Park, sporting events, and exceptional bird-watching in the multiple wildlife refuges. Any move is stressful, but one thing Corpus Christi residents don't have to stress about is finding a reliable energy provider.
Unlike most states, Texas features deregulated energy. That means Corpus Christi residents can choose between multiple electric companies rather than simply accepting a single provider for their area. Ultimately, this allows Texans to enjoy more competitive rates.
With more options, it becomes more important than ever to determine which providers offer the features and pricing you need. Whether you live in Corpus Christi, Skidmore, or any of the surrounding areas, we understand the needs of our customers. Anxious about how much it'll cost to cool your home in Texas' hot, humid summer season? We offer fixed-rate pricing, so you'll never have to worry about your energy supply costs skyrocketing with the temperature. Prefer to communicate with a Spanish speaker? Our bilingual customer service experts are available to help.
And that's just the beginning! Amigo Energy also delivers:
With so many features and benefits, it's no wonder why JD Power and Associates has awarded Amigo Energy 4-star ratings in both pricing and service.5 To get your new home up and running, call and set up your electric service with Amigo Energy today.
Make Amigo Energy Your Provider of Choice and Save
If you're unhappy with your current energy company in Corpus Christi, don't just grin and bear it. Energy deregulation in Texas allows you to choose your provider, meaning you can shop for the best prices, service, and options to meet your needs.
Why choose Amigo Energy? For starters, we offer fixed-rate pricing, meaning your energy costs will stay consistent, regardless of the season and market fluctuations. We also offer same-day service1 and no-deposit electricity and deposit payment plans, so you can get your lights turned on today—even if your credit score is low!‡ You can even choose a package that's tailored to meet your energy needs with our Nights Free Plan, Green Energy Plan, Basics Plan, and more.
When you choose Amigo Energy, you can also take advantage of bonus programs, like Refer-a-Friend and Amigo Energy Perks. And with over 15 years of experience, bilingual service options, and 4-star ratings for both pricing and customer service from JD Power and Associates,5 you can rest easy, knowing you're getting the best possible service at the best possible price.
So if you want a power company in Corpus Christi that stands out from the rest, choose Amigo Energy.
Amigo Energy FAQ
How can I sign up for service with Amigo Energy?
You can quickly and securely sign up for Amigo Energy by calling 1-888-528-2672 and speaking to an Amigo Energy Customer Service Representative—both English and Spanish-speaking—Monday through Friday from 8AM to 7PM (CST) and Saturday 9AM to 6PM (CST).
How does deregulated energy work?
Deregulated energy means that consumers in the area of deregulation can choose who they'd like to receive energy supply services from and are not forced to accept service from the local utility. In short, energy deregulation gives consumers the ability to shop around for their energy product and services.
Will there be interruption in my electricity if I switch to Amigo Energy?
No, there will be no interruption in your electricity service when you switch to Amigo Energy. On the day you start with Amigo Energy, your Advanced Meter System (AMS) will report your usage to your previous electric provider as final usage to generate a final bill. From the day you start with Amigo Energy, your usage will be reported to Amigo Energy and included in your first bill. You will not be billed for the same usage from two companies.
How much does it cost to start service or switch to Amigo Energy?
The cost to initiate new service or switch to Amigo Energy depends on the type of service activation requested and your service region. In very few cases, there is a charge for the cost of the Transmission and Distribution Service Provider (TDSP) to activate your service. Typically, however, there are no charges when you have an Automated Meter System (AMS), which usually allows us to remotely activate service.
Does Amigo Energy require a deposit for new service?
Amigo Energy offers no-deposit electricity to a lot of our new customers—read more on how to qualify here. In general, deposits are a result of your credit history, and specific deposit amounts are unknown until Amigo Energy runs a credit check. If a deposit is required, it will be based on estimated usage at the location you are requesting service. All required deposits must be paid before enrollment in new service can be completed.
What is the difference between a Variable and Fixed Rate?
The price per kilowatt hour (kWh) tends to be a bit higher for Fixed Rate products than with Variable Rate products because Fixed Rate products guarantee your rate won't go up during your contract term. Amigo Energy Variable Rate plans tend to be lower than Fixed Rate plans and do not require you to sign a contract. Variable Rates are based upon the prevailing wholesale market rates and can fluctuate.
Smart Thermostats Make Conserving Easy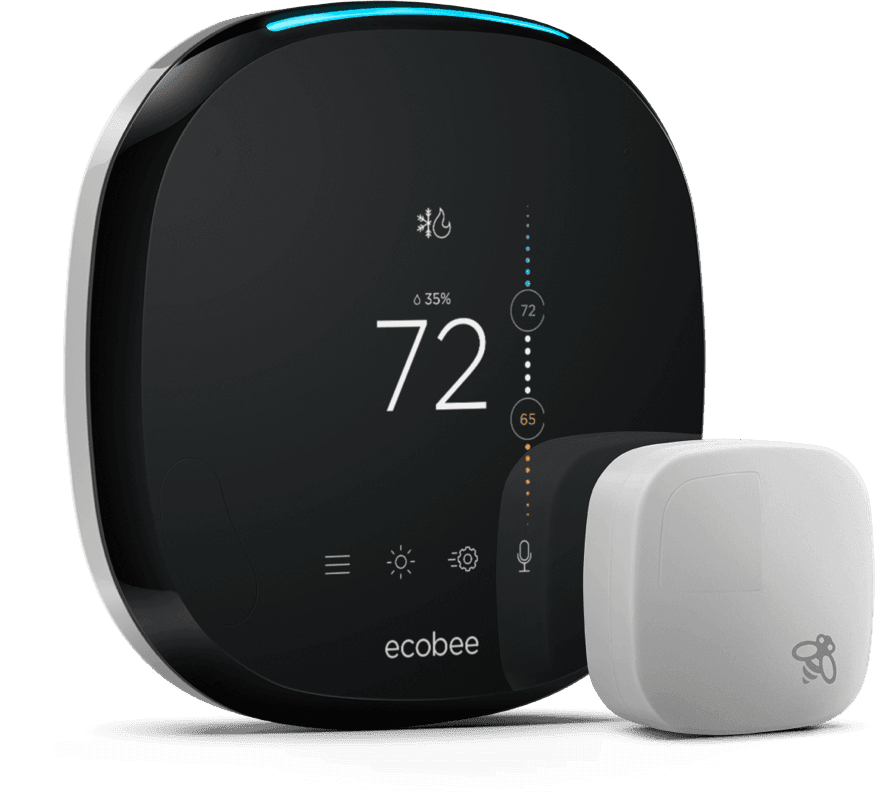 Smart thermostats are the next generation of home technology and will make your home in Corpus Christi the talk of the neighborhood. Not only are they sleek and smart, but they give you useful information about your home's power use that can help you improve your overall energy efficiency.
Curious why you should get a smart thermostat? Whether you're in Corpus Christi or a nearby town like Skidmore, here are four ways a smart thermostat can help you conserve energy in your home:
Easy-to-Use Interface Maximizes Your Heating and Cooling Efficiency
Remote Access Lets You Monitor and Control Temperatures from Anywhere
Smart Technology Tracks Your Energy Use
Customizable Technology Ensures Energy Use Matches Your Home's Needs
Smart thermostats are a win-win for homeowners. When you calculate how much you could save monthly with a smart thermostat, both in terms of money and environmental impact, it's an easy decision.
Ready to make the switch? Click here to find out whether an Ecobee Smart Thermostat from Amigo Energy is right for your home.

ENROLL NOW
×
One more thing—have you heard about our recent rate reduction?
Chat with an energy advisor today to lock-in your new low rate.